---
---
| | | | | |
| --- | --- | --- | --- | --- |
| Please Support our Sponsors | | | | |
| | | | | |
---
1/35 IMA Marmon-Herrington Mark 2
Armored Car Model Review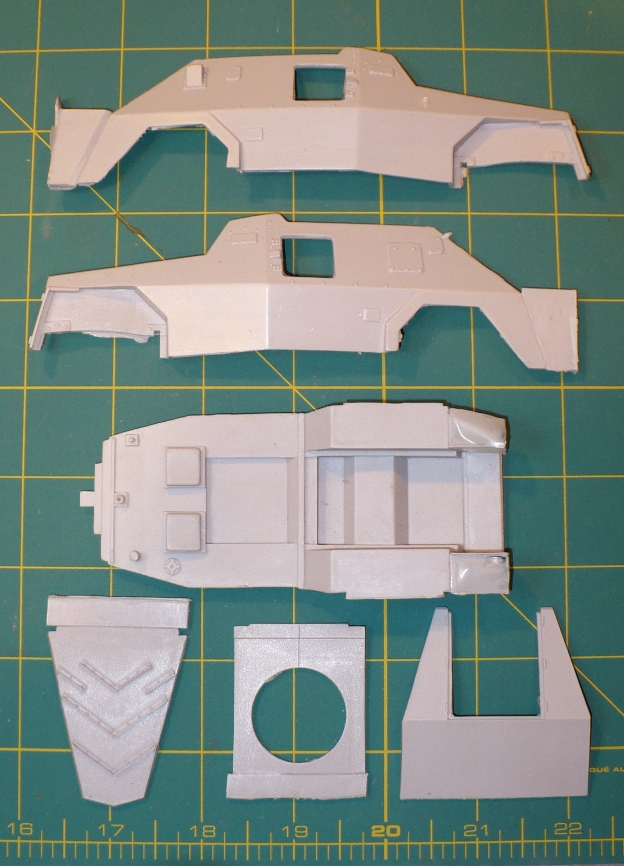 By Patrick Keenan - Editor
Basic Item Information
| | |
| --- | --- |
| Item | Marmon-Herrington Mark 2 Armored Car |
| Stock Number | IMA01735 |
| Manufacturer | International Models Asia (IMA) |
| Scale | 1/35 |
| Medium | Resin |
| Kit Contents | 81 Light Gray & 5 Clear Resin pieces |
| Retail Price | $68 USD |
| Reviewer | Patrick Keenan |
| Review Date | April 3, 2008 |
Review Summary*
| | |
| --- | --- |
| Review Type | First Look |
| Basic Positive Features | A very reasonably priced model kit of this important but ignored/neglected military vehicle. |
| Basic Negative Features | Detail level fairly basic. No decals, painting or marking information provided. |
| Overall Rating | 3.25 of 5.0 |
| Parts Casting Quality/ Detail Level Rating | 3.0 |
| Decals, Marking/ Painting Information Rating | None Provided |
| Instructions/Packaging Rating | 3.5 |
| Recommendation | Recommended |
* For information regarding the review terms, grading scale, etc. please go to the WarWheels Review FAQ/Key
___________________________________________________________________________________________________
Photos
Detailed Review
Background
International Models Asia (IMA) is a small resin kit manufacturer located in Hong Kong. They mostly produce 1/35 scale models of British and Commonwealth vehicles (tracked and wheeled). They have a fairly large number of Armored/Scout Cars and a whole slew of Churchill Tank conversions available.
I now present my review of IMA's full resin 1/35 Marmon-Herrington Mark II Armored Car model kit. Considering the importance to the British and Commonwealth Forces during the early part of World War two, this is only the second 1/35 model kit in any form (none in plastic) of the MH Mk 2 that I know of. The other kit of this often ignored/neglected vehicle was the long out of production Commander's Series offering. Being that the early MH armored cars were some of my favorite "wheelies", I was extraordinarily excited to get my hands on this model kit. For more info on the M-H Mark II armored car check out the vehicle index at WarWheels.Net at http://www.warwheels.net/MarmonHerrington2INDEX.html.
Quality of Casting/ Detail Level of Parts
The quality of the casting of the kit resin pieces is fairly decent, especially for a resin kit manufacturer. There is no mold shift, but there is some flash present on the parts that you'll need to clean up. Nothing major though. I'll probably have more information later on this aspect after completing the build process.
The detail level of each individual part (and the overall detail level) is pretty basic, but adequate. It appears that all the parts are there and the basic shapes look good, but they are very light on the detail level. The good news is the real MH Mark II armored car was fairly basic and uncomplicated itself as its outer shell was composed of a bunch of flat armor plates. Therefore, the basic detail level won't be as noticeable with this kit as if it were compared to the detail level of more "complicated" vehicles.
Decals, Marking Information and Painting Information
Like many resin manufacturers, IMA did NOT provide decals for the M-H Mark II kit. Although this is the norm in the resin kit industry, it really disappoints me to see this practice. In fact, at times it discourages me from buying resin kits or conversions. To me, no decals in a kit mean much more work for me to do or more money to spend. To properly finish some of these kits, I'll have to do a bunch of my own research and create my own markings or purchase an additional set. Honestly, I am lazy and if I am buying a kit, I'd like to get markings with it. This is only my opinion, but I am sure I am not alone.
The good news is that Bison Decals offers 2 marking options for the M-H Mk2 armored car on their "New Zealand Armour in Europe and Africa" decal sheet (35058). The markings are for two Kiwi vehicles of the 2nd NZ Division.
Also, no painting or markings information is provided by IMA as well. Please see my comments above about the lack of decals as those are also applicable to the lack of painting and markings info too.
Instructions/Packaging
Again, like many resin kit manufacturers, IMA provides fairly basic construction instructions. Their instructions come on (3) three black and white photocopied pages, with approximately 10 drawings and about 15 sequenced "steps". These steps are VERY basic, but do give you a sequence order in which to construct the kit. The nice thing about the instructions is the interior and chassis steps get the most attention and look to be fairly good.
Also, the instructions provide basic information on a number of different armament variations of the M-H Mk 2. However, you will need references on the specific M-H Mk 2 you wish to model in order to determine the armament carried. These instructions could have been better, but they could have been much worse too. However, let's see how I feel after the construction phase before giving my final analysis.
IMA packages their kits in their VERY sturdy (and I have to say very cool) signature custom-made white boxes. They are externally constructed of (what seems to me) sheet plastic and has an interior fully lined in Styrofoam. I have to say it is one of the best packaging options offered by ANY model manufacturer and is so cool I'll be keeping the box for the storage of some of my stuff.
The small to medium sized parts are individually bagged and are fully protected by the almost indestructible box. The packaging should protect the kit stand up to most any abuse it encounters in the long journey from Hong Kong to places East and West, North and South.
Conclusion
At only $68 USD, IMA has released a very reasonably priced model of this important but somewhat ignored/neglected military vehicle. Being this is the only game in town for a 1/35 Marmon-Herrington Mark II, I am glad to have this kit available.
The main negative issues with this model kit are the fairly basic detail level and the lack of decals, markings and painting instructions. With that being said, IMA is not alone in this practice as most other small resin model kit manufacturers do not provide decals either. Considering the very reasonable price of this kit, I don't find these issues too big of a deal as it is a great value. However, if the price were close to the costs of other manufacturers' resin kits (50-100% higher) I'd probably have a bigger problem with the detail level.
Thanks to International Models Asia for the review sample.
Recommended
Copyright: Patrick Keenan - April 3, 2008