---
---
| | | | | |
| --- | --- | --- | --- | --- |
| Please Support our Sponsors | | | | |
| | | | | |
---
OT-64/SKOT
Armored Personnel Carrier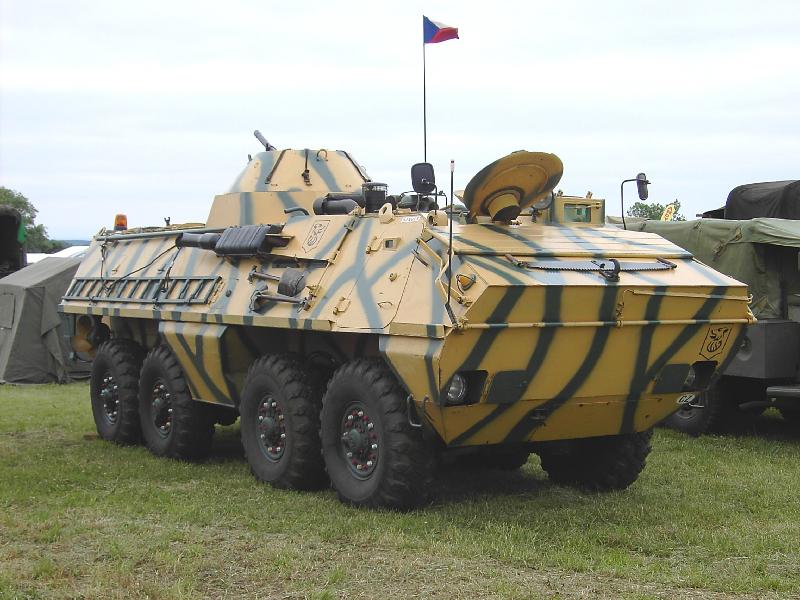 OT-64C(1) APC
---
Specifications
Country of Origin/Used by:
Czechoslovakia & Poland along with many others including Algeria, Angola, Cambodia,East Germany, Hungary, India (1972), Iraq, Libya, Morocco, Sierra Leon, Sudan, Syria, Uganda (1978), and Uruguay.
First Produced/Service Dates:
1964
Manufactured by:
Tatra
Crew:
2 - 12
Armament:
Various Armament packages depending on variant.
Engine:
8 Cylinder Tatra Model T-928-14 or -18 diesel
Miscellaneous Info:

Amphibious Vehicle co-produced by Czechoslovakia and Poland to use instead of the comparable Soviet BTR-60/70 APCs.



The main versions produced were as follows:


OT-64A/SKOT: Czech Republic - Unarmed; Poland - Pintle mounted 7.62mm machine gun.




OT-65B/SKOT 2: Poland only: Pintle mounted 7.62mm or 12.7mm machine gun.


OT-65C(1)/SKOT 2A: Turret: (1) 14.5mm KPVT MG; Coaxial: (1) PKT 7.62mm MG
OT-65C(2)/SKOT 2AP: Poland Only; had a new turret but with same armament as SKOT 2A.
Data Sheet Available:
OT-64/SKOT Data Sheet by Dave Haugh.



OT-64C/SKOT 2a Data Sheet

by Dave Haugh.
---
Photos
---
References Available
Online
| | |
| --- | --- |
| Reference | Source/Provider |
| | |
Printed
| | |
| --- | --- |
| Reference | Author |
| Encyclopedia of Armoured Cars | Duncan Crow & Robert J. Icks |
| Jane's Tank Recognition Guide (4th Edition) | Christopher F. Foss |
| Wheeled Armoured Fighting Vehicles In Service | B.T. White |
---
Hobby Modeling
Kits and Accessories
| | | | |
| --- | --- | --- | --- |
| Model Kit | Manufacturer | Scale | Other Information |
| OT-64C(1)/SKOT 2A APC Model Kit | Jadar/ARMO | 1/35 | Resin & Brass |
Model Photos
| | |
| --- | --- |
| Reference | Source/Provider |
| | |
---