---
---
| | | | | | |
| --- | --- | --- | --- | --- | --- |
| Please Support our Sponsors | | | | | |
| | | | | | |
---
DVD Movie Review
"Military Police in Vietnam"
by Franz Tinio-Lopez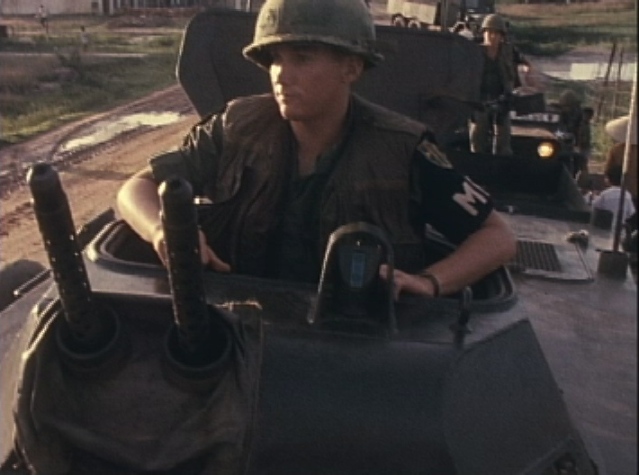 Basic Information
#695 Traditions Military Video
UPC: 811120016952
Total Run time: 70 minutes.
US Government Film source (Color and B&W)
Background music and radio broadcast from Armed Forces Radio Vietnam.
To see a short clip of the video, go to this hyperlink at Traditions Military Videos.
Review
Contents
This DVD review only covers subjects of interest to armored car/wheeled fighting vehicle enthusiasts. First of all, the video features 11 minutes covering the early model V-100 / XM706 used by the US Army Military Police in Vietnam. The vehicles have multiple side gun ports and vision blocks, round wheel wells, flat driver and observer hatches. These are unlike the later version of the XM-706 with raised hatches seen in most photos of MP operated V-100s. There is also a film clip that orients the viewer with the vehicle (including brief narration about the vehicle specifications.), shows the engine bay and even covers personnel servicing the vehicle by checking coolant, oil and fluid levels.
Another film clip shows two V-100s driving on road on convoy escort. Orange recognition panels are attached on the winch covers. The vehicles do not yet have their white Military Police markings, but seem to have temporary black MP lettering on the hull sides and rear. There are some views of the interior and turret. There are also footage of armored M151 jeeps and gun trucks as well.
Another interesting scene takes place during the 1968 TET Offensive in Saigon. Footage is presented of a V-100 used by MPs to clear out VC infiltrators who ambushed an M35 truck on a palm lined street. They even show them evacuating wounded afterward. For more information about the Tet Offensive, check out the "Vets with a Mission Website".
Finally, although the V100 appears in most of the footage that would be interesting to wheeled vehicle enthusiasts, other WFVs are also shown such as MP M151 Jeeps. Other vehicles of interest to many are the Boston Whalerís of 23rd Military Police and MP operated Patrol Boar, River(PBRs).
Copyright 2010 - Franz Tinio-Lopez