---
---
| | | | | | |
| --- | --- | --- | --- | --- | --- |
| Please Support our Sponsors | | | | | |
| | | | | | |
---
Book Review
30 years of Military Vehicles In Lebanon
Review By David Haugh - Oregon USA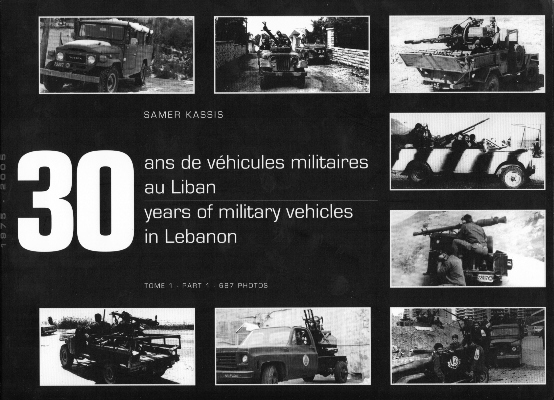 Basic Item Information
| | |
| --- | --- |
| Author, Editor and/or Illustrator | Samer Kassis |
| Publisher | The Elite Group |
| ISBN/Stock Number | 9953-0-0705-5 |
| Retail Price | $100 USD ($70 USD Shipped to AMPS & IPMS/USA Members) |
| Reviewer | David Haugh |
| Review Date | July 7, 2009 |
___________________________________________________________________________________________________
Detailed Review
The edition I have was published in two separate volumes, the first with the photographs in a numbered sequence, and the second with the captions (in order) in French and English. I actually prefer this arrangement as it allows having the page with the photo and the page with the caption open at the same time.
Overview
Lebanon (and its preceding iterations) has been unfortunate enough to see invaders and civil strife on their doorsteps for centuries. The period 1975 to 2005 was no exception, and almost saw the demise of the Lebanese state in its current form. Eight major factions and their supporters and/or dependents used hundreds of different vehicles (some captured, put back into service, and then recaptured and reused, several times). Along with brand new vehicles, the conflict also saw the reintroduction of obsolete and reserve stock vehicles from all over the Middle East and beyond into the fighting.

The Contestants
First was the Lebanese National Army itself: A modern, well equipped force, both US and Soviet vehicles were in use, along with a sprinkle of earlier vehicles from the end of WWII and the 1950s. Everything from Portuguese Bravias, French 6x6 VBLs, British Saracen APC's and Saladin ACs were used, along with US M113s, M48s and Soviet T55s. My favorite photo from this section is #68, what I believe is a factory rebuild T54A in active service.
Second are the Christian Militias: With these groups we begin to see more armed soft-skin vehicles, mostly commercial and military trucks in a rainbow of colors and markings. There are also a limited number of Shermans and Halftracks from Israeli stocks. Photo #124 really caught my eye, it's a South Korean 4x4 KM-41 fitted with a TOW launcher.
Third are the Druze and Muslim Militias: Remembering that this study covers 30 years, helps explain the incredible number and types of vehicles used. Also, as the war waxed and waned, sides and allies changed along with sources of support. I'll just use the example of the "Progressive Socialist Party", who by my count in the photos had at one time or the other; 4x4 Land Rovers, 4x2 Chevy Pickups, 4x4 commercial jeeps, M151 Mutts, 4x4 Nissan Patrols, M113 APC's, 6x6 BTR-152 APC's, T17E1 Staghound ACs, 8x8 BTR-60PB APC's, BMP-1 APC's, AMX-13 105mm Light Tanks, M48 105mm Medium Tanks and Soviet T-55s.
Fourth are the PLO and Palestinian Militias: Usually the "Bad Boys" of western reporting, the Palestinians tend to operate as Light Infantry; still the PLO and their supporters do move to heaver equipment when they can get it. Equipment photographed includes an ex-Lebanese Army T17E1 Staghound with AEC turret, commercial 4x4 Jeep with Recoilless Rifle, Mercedes Light Trucks and Chevrolet Pick-ups with machine guns in the rear, home built APC's, commercial 4x4 Land Rovers, Soviet BTR-60PB and BRDM-2 Scout Cars. Not bad for a group that normally walks to a fight.
Fifth is the Hezbollah: Weapons are shown, but no vehicles for the small and rather secretive group.
Sixth is the South Lebanese Army (SLA): The SLA operated from circa 1979 to 2000 in Southern Lebanon and had the strong logistical support of Israel; which is indicated by the large number of Israeli sourced vehicles. In no particular order, SLA vehicles included M151 Mutts, 4x4 commercial Jeeps, 4x4 Land Rovers, 4x4 Toyotas, 4x4 Dodge Power Wagon, M37 4x4 3/4-ton Trucks, Ramta-RBY Scouts, Israeli 4x4 Nun-Nun Trucks, Half-Tracks, M113 APC's, 105mm Shermans, 105mm TI-67s and various T55s.
Seventh are The Occupation Armies (Israel and Syria): This is the section with what I believe to be the most color photos scattered across 41 pages; 19 pages covering the Israeli Army and 22 pages for Syria. Not to downplay the Israeli section, but most of the vehicles and markings have been well documented in Western publications, but not so for Syria. While it's mostly Soviet equipment, the colors and markings of Syrian vehicles are unique and need to be documented.
And finally eighth are the Peace Forces (Arab Deterrent Force, Multinational Force and UNIFIL Force) : These photos include a potpourri of vehicles, Sudan's BTR-60PB and Saladin 6x6 ACs, Saudi 4x4 AML-90 ACs and Panhard 4x4 APC's, French AML-60 and AML-90 ACs, British 4x4 Ferrets, Italian LVTP7 APC's, US M151s, French 4x4 Peugeot P4, Ukrainian 4x4 UAZ-469s and 8x8 BTR-70 APC's, along with Finnish 6x6 SISU XA-180 APC's and a large array of support vehicles.
Conclusion
To wrap up, I don't know what more you could want in a book. The listed price is $100 but AMPs members can get the book for $70 including postage from The Elite Group at elitegrp@elitegrp.com.lb . Because of all the information contained, I think Samer's book would be a bargain at the listed price.
Copyright: David Haugh - July 7, 2009