---
---
| | | | | | |
| --- | --- | --- | --- | --- | --- |
| Please Support our Sponsors | | | | | |
| | | | | | |
---
Accessory/Aftermarket Product Review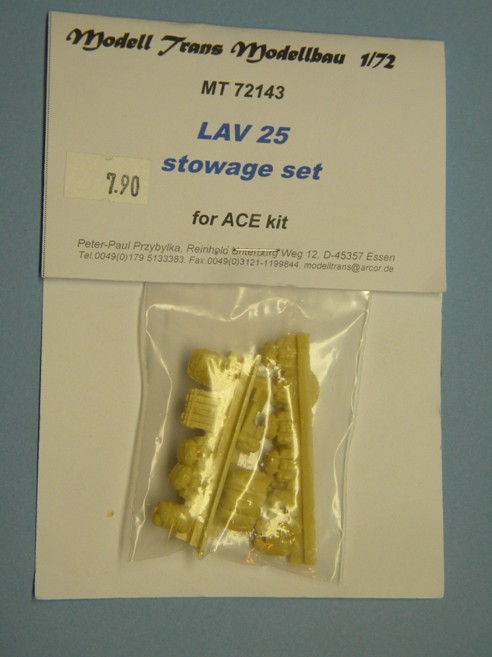 1/72 ModellTrans Modellbau
LAV-25 Stowage Set
By Rob Teubert - Edgerton, Wisconsin USA
Basic Item Information
| | |
| --- | --- |
| Stock Number | MT72143 |
| Manufacturer | ModellTrans Modellbau |
| Scale | 1/72 |
| Medium | Resin |
| Kit Contents | 19 parts |
| Donor Model Kit | Ace Models LAV 25 Model Kit (72401) |
| Retail Price | 7.90 Euro (Approximately $10 USD) |
| Reviewer | Rob Teubert |
| Review Date | November 19, 2011 |
___________________________________________________________________________________________________
Photos
___________________________________________________________________________________________________
Detailed Review
Ever since soldiers took to battle, they had packs and bags that they used to carry their supplies. When the first armored vehicles lumbered across the battlefield they attached those bags and packs to their vehicles. This practice is still in full force today as missions get longer and more complex. In some cases almost all free space on a vehicle is used for storage. ModellTrans Modellbau's stowage set for the LAV 25 is a fine representation of this practice.
The LAV 25 stowage set is designed for the Ace Models 1/72 LAV 25 model Kit (72401) and comes packaged in a small plastic bag, stapled to a cardboard header card. The set contains 19 resin parts and consists of various packs, rolls, a spare tire, large canvas tarp, camo netting rolls and a couple of ammo boxes. There are no decals or instructions with this set, but two (2) photos on the header card act as a placement guide for the set.
The resin castings are of good quality and the detail is very sharp, especially for 1/72 scale. There are two major issues that I found with the set. First was air bubbles, a lot of them. Most of them are pin prick size and are easily filled with a little Mr. Surfacer 500. A few larger ones needed a little more time and effort to fill. The second issue is that the two crates provided in the set are attached to the mold "sprue" right at the handle, which destroys the detail at that portion of the crate. Lastly, I was unable to procure the ACE LAV 25 kit in time for this review (Thatís a whole other story), so unfortunately Iím unable to tell you how well the parts fit the kit.
In conclusion I recommend this aftermarket set even concerning the two concerns that I have since the detail is great and the rest of the parts are well cast. Also, even though this accessory set is designed for the ACE Model's LAV25 kit, I believe they can be used on almost any project that you need some extra stowage.
Thanks to ModellTrans Modellbau for the review sample.
Copyright: Rob Teubert - November 19, 2011