<![if !supportLineBreakNewLine]> (Martyn's review first appeared on the website: My Hobby Info - Social Club Forums)
<![endif]>
Background
The AEC Armoured Car was a series of heavy armoured cars built by the Associated Equipment Company (AEC) during the Second World War. It was based on the Matador medium truck chassis and was developed initially as a private venture. It was first shown to officials in 1941 with an order being placed in June of that year. The Mk I was equipped with the same turret as the Valentine tank, featuring the 2-pounder gun. 129 Mk I vehicles were built and many of them saw action, being first used in combat in the North African Campaign and across the Middle East from mid-late 1942. Later it was upgraded to take a bigger turret with larger main armaments, amongst other differences. These vehicles were the AEC Mark II & Mark III Armored Cars. Based on period photos I reckon the MkII replaced the MkI in mid 1943.
This kit from MiniArt was the first to be announced in their 2013 catalogue release and features…
436 plastic parts

60 Photo-Etched metal parts

Decal options for three vehicles

Full-colour instructions

All New Tooling. State of the art engineering utilising slide mould technology.

Fully detailed and highly accurate interior including the driver's compartment, lower hull, turret and engine compartment with accurately represented engine and transmission.

Driver's vision periscopes moulded in clear plastic

All doors and hatches can be assembled open or closed

Slide-mould tyre tread pattern moulded in one part
Contents
The kit is presented in MiniArt's usual sturdy box. The boxart is great and represents a MkI in the Western desert, 20 September 1942. Maybe from the 4th Light Armoured Brigade and based on this photo I reckon?
Instructions
These are up to MiniArt's usual high standards. They look pretty straightforward although I haven't built it yet to identify any pitfalls. The instructions contain the usual parts map (slightly different than the MkII and MkII of course), clean/clear line drawings across 80 build stages throughout, and glossy full colour plates for the painting and markings options. Don't be daunted by the large number of build stages as some only have a few parts involved.
Sprues
The parts are spread over 14 light grey sprues, four slide moulded styrene tyres, a fret of PE, with a sheet of decals. The parts are sharply moulded, with no discernable flash and just some very fine seam lines to contend with. There are ejection pin marks but these appear to be in places that should remain unseen after building or hidden by other parts during assembly. This is indeed plastic engineering at its finest and provides a highly detailed and accurate model of this quintessential British armoured car.
Some of the sprues are unique to this kit, because the MkI had a different turret and armament, ammo storage, exterior stowage and front end. These are the MkI specific sprues and PE parts although by the looks of it, the turret sprue originated from MiniArt's Valentine range of kits.
By highly detailed, I mean this kit has the lot…'almost full' drivers compartment, lower hull, turret with turret ring and main/secondary armaments, full ammo load, and a detailed engine compartment. I use the words 'almost full' with my tongue firmly in my cheek. I've studied the drawings I have and found a few parts missing, but nothing that would be fixed in place… just minor stowage items like haversacks, Thompson SMG/ammo clips, hand grenade stowage etc. I have to say the interior looks impressive and I feel a bit petty mentioning the few little items above. I have included the stowage sketches at the bottom to help you decide, but what's missing is negligible IMHO. Of course like most kits, the engine area and interior of the fighting compartment may benefit from a bit of extra 'plumbing and wiring' for those who like to super-detail their kits.
This detail does come at a cost though; the smaller parts do look a bit fragile, and it does seem to make for a complicated build at times. Some PE parts I would have preferred in styrene (maybe as an alternative)? I'm especially thinking of parts PE2 and PE11 on the axles which will need forming precisely to represent their complicated shapes properly.

These are the common sprues, shared with the other the Miniart Mark II and Mark III kits…
And a few close ups of some sprues, showing some with excellent detail. Stand out features include the styrene tyres with manufacturers markings, 2pdr rounds with safety clips, clear periscopes, ammo storage ring, and a lovely MkI Bren Gun. Too many to mention, so enjoy the photos below
:
Painting/Markings
The kit comes with three colour scheme and very simple markings options. The markings consist of the census numbers only, which is typical of the era and theatre. But if the users can be identified, formation signs and arms of service plates wouldn't be out of place, and would add a splash of colour.

The options are…
1. AEC Mk.I, Unknown unit, Syria 1943
Although said to be Syria, this scheme matches very well that of The King's Dragoon Guards in Libya 1942, or later in Tunisia. Of course it should noted that the colour scheme portrayed was common across the Middle Eastern Theatre by and large. Other users may have included the Royal Dragoons as AEC's seem to have been used alongside Daimlers, Humbers or even Marmon Herrington armoured cars.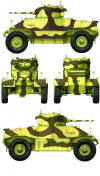 2. AEC Mk.I, Unknown unit, Egypt, December 1942
Again I'm not 100% sure about this scheme, but I reckon the colour recommended could be wrong. Period photos show some armoured cars (not AEC's though) being delivered in Egypt in their UK colours; which is possibly Khaki Green no3, but more likely to be the SCC2 Service Brown.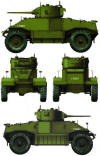 3. AEC Mk.I, Unknown unit, Libya 1942
I'm not sure, but I'm looking into the users of this vehicle and I think that option 3 may be from the New Zealand 4th Light Armoured Brigade. It is of course based on the period photo above.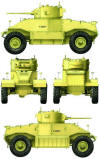 Finally, A colour guide is provided for: Revell, Life Color, Humbrol, Gunze Sangyo, Vallejo, Testors and Tamiya paints.
Conclusion
I think this is a great kit, the MkI being my personal favourite of the three Marks, based on looks alone. For me it represents the quintessential British armoured car of WW2.
It isn't a kit that can be built over a weekend. However, based on Pete's and Pascal's nice kit builds (located via the hyperlinks below), great results can be attained.
http://modelerssocialclub.proboards.com/thread/5184/art-miniart-aec-armoured-car ; and here http://modelerssocialclub.proboards.com/thread/5276/pascals-aec-mk2-finished and Robs' MkIII here: http://modelerssocialclub.proboards.com/thread/6240/miniart-aec-mk-iii
What the kit does offer is a different era and theatre for the modeller to explore; the kit pre dates the MkII and MkIII. The MkI can be modeled from first delivery, into the actions in Egypt (mid 1942) and onto North Africa, the Western Desert, and possibly up to the Tunisian Campaign. I'm surmising, but after that time period any remaining MkI's would have been relegated to security duties as the Allies re-equipped with MkII's, etc for the push into Sicily and Italy.
Is it a complex build? Probably yes. But if the modeller wants to save time or isn't building the kit with all the hatches open/figures in the hatches, the interior can be skimped on and the parts put into the spares box. Be aware though that the kit suffers from SPS (small part syndrome), but some will appreciate that fact. Finally, care will be needed because some parts look to be pretty fragile, something Pete picked up on during his MkII build.
Very Highly Recommended.
Stowage sketches
For those who wish to improve the look of their MkI…if they can find anything to add! I hope they're useful.
And a few grainy 'in action' photos of the AEC below. I reckon fresh in the desert and possibly the one from the boxart too.