---
---
| | | | | | |
| --- | --- | --- | --- | --- | --- |
| Please Support our Sponsors | | | | | |
| | | | | | |
---
Decal Review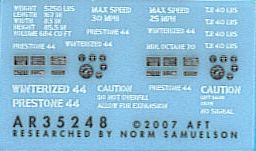 Archer Fine Transfers 1/35 Dodge ¾ Ton Truck
Instrument Set
By Patrick Keenan - Aurora, Illinois USA
Basic Item Information
| | |
| --- | --- |
| Item | Dodge ¾ Ton Truck Instrument (and Assorted Exterior Stencils) Set |
| Stock Number | AR35248 |
| Manufacturer | Archer Fine Transfers |
| Scale | 1/35 |
| Medium | Dry Transfer Markings |
| Kit Contents | Enough transfers to complete the instrument panels/dashboards of two 1/35 vehicles. |
| Retail Price | $6.95 USD |
| Reviewer | Patrick Keenan |
| Review Date | June 28, 2007 |
Review Summary*
| | |
| --- | --- |
| Review Type | Quick Use |
| Basic Positive Features | Dresses up Kits with Limited work and cost |
| Basic Negative Features | Circular Dials will need to be applied with Wet Method |
| Overall Rating | 4.75 of 5.0 |
| Accuracy Rating | 4.5 |
| Ease of Use | 5.0 |
| Print Quality/ Detail Level | 5.0 |
| Instructions | 4.5 |
| Recommendation | A Must Have |
* For information regarding the review terms, grading scale, etc. please go to the WarWheels Review FAQ/Key
___________________________________________________________________________________________________
Photos
Detailed Review
Background
Archer Fine Transfers has been a player in the aftermarket armor markings game for a long time now. They do have some traditional water-slide decals available, but their bread and butter is dry transfers. For those of you who do not know what dry transfers are, they are markings that you do NOT have to use water to apply, but instead you gently rub them on with a blunt tool or object, when they are dry. You can use Archer's dry transfers wet, but you would have to take additional steps to do so.
The benefit of using dry transfers over water-slide decals is that dry transfers are usually more realistic in appearance because they appear painted on like real vehicle markings. This better appearance is due to the transfers not having excess carrier film and also being (generally) thinner than water slide decals. Thusly, transfers will snuggle down and hug the object better.
One of Archer's latest releases is a dashboard instrument panel markings set specifically made to use with the AFV Club (Ex-Skybow) WC 51 ¾ Ton "Beep" Dodge Weapons Carrier (35S15) and WC 56/57 ¾ Ton Dodge Patton's Command Car (35S16) kits. The set provides transfers to represent the Dodge's mechanical instrument gauges, speedometer and information plates on the inside dashboard. Per info directly from Archer, the transfers are made such that the specific kit details such as the pointer needles will line up precisely with those details on the kit. The set also comes with additional transfers to represent exterior stencil markings as well.
The Archer set has enough transfers to complete the instrument panels/dashboards of two 1/35 vehicles. However, there are only enough exterior stencil markings for one vehicle and a few spares left over. That isn't a problem to me as the AFV Club kits come with stenciling. Lastly, I suppose you could use this set for the Italeri series of 1/35 ¾ Dodge Trucks (probably with some modification), but I haven't compared them with the Italeri kits, so you're on your own.
Accuracy
My references on the ¾ Ton Dodge Beep are pretty limited, but from what I can determine, they look like they accurately represent the real deal. Regardless though, they are made specifically for the AFV Club/Skybow model kits and I can say that they look like they'll fit perfectly.
Ease of Use
I did not use the entire set of these decals, but the ones I tested were a treat to use and worked beautifully; Just like the other Archer sets I've used before. The transfers come off very nicely in that they don't come off too easily, yet you don't need to rub like a mad-cleaning woman scrubbing the floor either to remove them. The transfers come off in a matte/flat finish with no excess glossiness. Lastly, they come off with no excess trim you would have to remove.
There is one difficulty that could potentially crop up with this set and it relates to the circular instrument gauges. The good news is that Archer has already foreseen this difficulty and provides alternate instructions and the means necessarily to avoid the problem. If you were to use the traditional dry transfer application method with the dials, it would be very difficult to correctly apply the transfers to the model kit pieces because they have raised rims where the dials would be. In addition to instructions, Archer also provides their exclusive Wet Media Paper (WMP). Per Archer, WMP differs from traditional clear decal paper in that the modeler applies the instrument transfer to the WMP and it floats off without any clear film. The adhesive on the transfer is not altered in any way so the transfer can be floated into position and then adhered to the model with some pressure.
Remember also when using Archer transfer sets (and any other company's dry transfers) you have to be extra careful when setting them up prior to application. If they are lined up incorrectly or in the wrong spot and you commence the application process, you're out of luck. There is no moving them once they are applied, or even partially applied. This is one of the minor negative aspects of using all dry transfer markings, not just Archer's of course.
Print Quality/ Detail Level
The quality of this set of dry transfers is of the typical high quality of other Archer sets. The transfers are micro-thin and are printed completely in register with no color overrun. Although this set is printed in only black and white colors, the colors are vibrant and the text represented is very clear.
Instructions
The instructions Archer provides for the instrument panel transfers are very good. They are in full color and show exactly which marking goes where. There is no confusion and they are very easy to use.
The only (what could possibly be called a) negative aspect of this set is that Archer does not provide any instructions for using the exterior stencil markings. To me this fact is not a problem as the transfers are replacements for the kit provided water slide decals, so the kit instructions should more than suffice.
Conclusion
The Archer Fine Transfers ¾ Ton Dodge Truck instrument panel dry transfer set is a very useful set to have if you plan on building one or both of the AFV Club/Skybow Beep kits. For a mere pittance, and just a small amount of work, you can easily gussy up your trucks with Archer's set. They look very realistic and they add a bit of color to these Olive Drab trucks. Throw in the facts that this set is of the same high quality as other Archer offerings and you have yourself a winner here.
Rating = A MUST HAVE!
Thanks to Woody Vondracek and Archer Fine Transfers for the Review Sample
Copyright: Patrick Keenan - June 28, 2007