---
---
| | | | | | |
| --- | --- | --- | --- | --- | --- |
| Please Support our Sponsors | | | | | |
| | | | | | |
---
Decal Review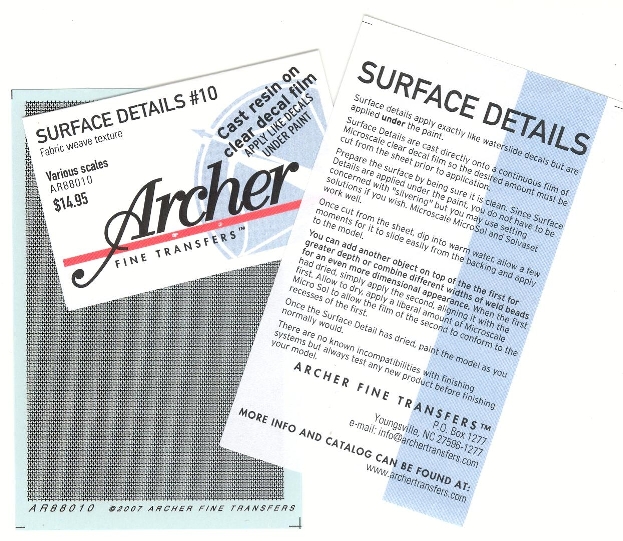 Archer Fine Transfers - Surface Details #10
"Fabric Weave Texture"
By Dick Montgomery
Basic Item Information
| | |
| --- | --- |
| Item | Surface Details #10 – Fabric Weave Texture |
| Stock Number | AR88010 |
| Manufacturer | Archer Fine Transfers |
| Scale | N/A |
| Medium | Resin printed on Clear Decal Film (Water Slide) |
| Kit Contents | 2 ½" X 4" sheet of usable fabric weave texture (10" sq) |
| Retail Price | $14.95 USD |
| Reviewer | Dick Montgomery |
| Review Date | December 20, 2007 |
Review Summary*
| | |
| --- | --- |
| Review Type | Quick Use |
| Basic Positive Features | Dresses up kits with very little effort |
| Basic Negative Features | Cost per sq. inch limits use on large projects |
| Overall Rating | 5.0 of 5.0 |
| Accuracy Rating | 5.0 |
| Print Quality/ Detail Level | 5.0 |
| Ease of Use | 5.0 |
| Instructions | 5.0 |
| Recommendation | "A Must Have" |
* For information regarding the review terms, grading scale, etc. please go to the WarWheels Review FAQ/Key
___________________________________________________________________________________________________
Detailed Review
Background
Surface Details #10 (AR88010) "Fabric Weave Texture" is a new item available from Archer Fine Transfers. It is similar to traditional water-slide decals but with a twist. The "fabric weave" is not simply printed on the decal film but is actually three-dimensional. The fabric weave is actually cast resin set on traditional water slide decal film in a pattern that simulates fabric.
Accuracy
The fabric texture simulates such items as sand bags and canvas tarps. As such, the surface detail needs to somewhat conform to a scaled appearance. In this regard Archer's product is very successful.
Print Quality/ Detail Level
This product does not need to "match" any national insignia, marking, or color. Its purpose is to provide "texture" and to do so with a scaled realism. Mission accomplished!
Ease of Use
The product is extremely easy to use. One handles the product using the same basic approach as one would use with any traditional waterslide decal. Since this product is applied under the paint (apply decal on bare or primed surface, then paint over the decal) there are no issues with silvering.
Instructions
The instructions for use of this product are included in the 2.5 x 4.5 package. The directions for use are written in a clear and concise manner, easily understood and followed. A web url is provided if one wishes to gather additional information about this product or those similar to it. An email point of contact is also provided.
Conclusion
This product is a giant leap forward for those who wish to add detail and texture to their models. Its ease of use, the quality of the material from which it is made, and applicability across several genres of modeling overcome the rather steep price.
Of course, meant for the armor builder, the primary use of this product is to add fabric texture to anything on or near the vehicle that is fabric. But this product can also simulate weld beams by simply cutting it into long thin strips. Car modelers can use this product to give seat cushions, dashboards, and "leather" or "cloth" interiors some much needed detail. Ship builders can apply this material to simulate non-skid surfaces on decks and textured canvas covers for lifeboats.
This is a relatively new release by Archer and is not the only product in this line. Archer has also released a sheet of "Distressed wood grain" (#11), "Woodgrain" (#12), and "Raised panel lines" (#13). All of these items, included the sample product reviewed above retail for $14.95.
Rating = A "Must Have"
Thanks to Woody Vondracek and Archer Fine Transfers for the Review Sample
Copyright: Dick Montgomery - December 20, 2007