---
---
| | | | | | |
| --- | --- | --- | --- | --- | --- |
| Please Support our Sponsors | | | | | |
| | | | | | |
---
Decal Review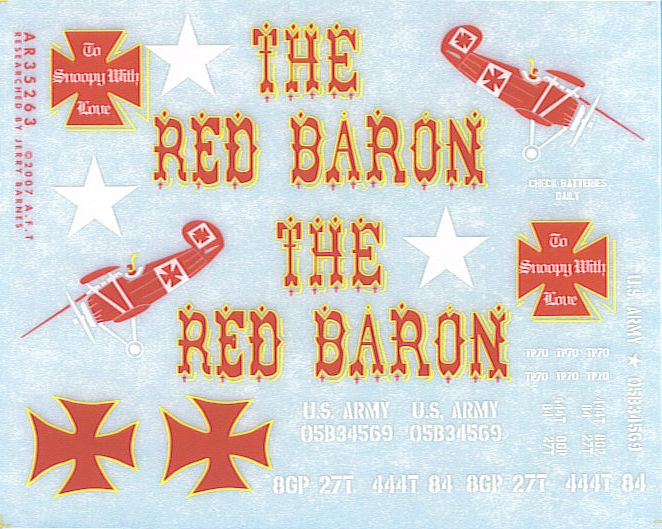 Archer Fine Transfers 1/35 5-Ton M54 Guntruck "The Red Baron" Graphics and Stencils
By Patrick Keenan - Aurora, Illinois USA
Basic Item Information
| | |
| --- | --- |
| Item | M54 5-Ton Vietnam Era Guntruck "The Red Baron" Markings Set |
| Stock Number | AR35263 |
| Manufacturer | Archer Fine Transfers |
| Scale | 1/35 |
| Medium | Dry Transfer Markings |
| Kit Contents | Enough transfers to mark one Guntruck |
| Retail Price | $17.95 USD |
| Reviewer | Patrick Keenan |
| Review Date | September 28, 2007 |
Review Summary*
| | |
| --- | --- |
| Review Type | Quick Use |
| Basic Positive Features | Typical high quality Archer Transfers; A much needed markings set for an important class of vehicles in US military history. |
| Basic Negative Features | The instructions are sketchy on markings locations and there are no listings of special features of this truck (including armament carried); No Injection Molded 1/35 kit of M54 truck or Guntruck available. |
| Overall Rating | 3.75 of 5.0 |
| Accuracy Rating | 3.5 |
| Ease of Use | 4.5 |
| Print Quality/ Detail Level | 4.5 |
| Instructions | 2.5 |
| Recommendation | Recommended |
* For information regarding the review terms, grading scale, etc. please go to the WarWheels Review FAQ/Key
___________________________________________________________________________________________________
Photos
Detailed Review
Background
Archer Fine Transfers has been a player in the aftermarket armor markings game for a long time now. They do have some traditional water-slide decals available, but their bread and butter is dry transfers. For those of you who do not know what dry transfers are, they are markings that you do NOT have to use water to apply, but instead you gently rub them on with a blunt tool or object, when they are dry. You can use Archer's dry transfers wet, but you would have to take additional steps to do so.
The benefit of using dry transfers over water-slide decals is that dry transfers are usually more realistic in appearance because they appear painted on like real vehicle markings. This better appearance is due to the transfers not having excess carrier film and also being (generally) thinner than water slide decals. Thusly, transfers will snuggle down and hug the object better.
This review is on another of Archer's latest markings releases, this one specifically representing the M54 5-Ton Guntruck "The Red Baron". "The Red Baron" was a Guntruck in the 444th Transportation Company of the 27th Transportation Battalion, circa 1970. The set provides transfers to mark one model kit of "The Red Baron".
There is one little thing you should know about this set, and that is there are no 1/35 scale injection molded (plastic) kits of the M54 5-ton truck (or Guntruck either) available. The only present modeling options are scratchbuilding the vehicle, buying the Real Models resin 1/35 M54 truck (full kit) or buying the Real Models M54 cab conversion kit for the Italeri M-925 5-ton Truck (not the "Bigfoot" kit).
With that being said, in my heart of hearts, I really believe that the 1/35 M54 will come out in plastic someday. This is only a WAG (Wild-A**-Guess) on my part and is NOT based on anything I've heard as a rumor or even as legitimate news. It just seems logical to me that some company will eventually release a plastic M54 because it 1) was a fairly prevalent vehicle (many were produced and used) and 2) the vehicle has not been modeled yet in 1/35 plastic. I believe that this kit would be a decent seller and would definitely fill a void in the complement of other truck models already available to us modelers. Please, somebody??? Release one? I'll but at least one, and even more for the Guntruck conversions I'd love to do.
Accuracy
Being that this is a markings set for one specific vehicle ("Red Baron") and coupled with the fact that Vietnam era Guntrucks were notoriously unique, it makes it hard to assess the accuracy level. I only have one color photo available to me of "Red Baron" (In James Lyles' book "The Hard Ride: Volume 1). But from what I can determine based upon that photo, I cannot find anything wrong with the markings. That is not to say the markings are perfect or completely correct, I just didn't find anything in that one photo.
Also, Archer is well known in the modeling community for producing highly accurate transfers of excellent quality. So, since I cannot find any information to the contrary, I'll assume these markings are correct as well. You might think this is a cop-out on my part, but at least you know where I stand. I don't profess to know something I don't just because it is easier to do so.
Ease of Use
I did not use the entire set of these transfers, but I did use a couple to test them out. Basically, they were a treat to use and worked beautifully just like the other Archer sets I've used before. The transfers come off very nicely in that they don't come off too easily, yet you don't need to apply excessive pressure. The transfers come off in a matte/flat finish with no excess glossiness. Lastly, they come off with no excess trim you would have to remove.

Remember also when using Archer transfer sets (and any other company's dry transfers) you have to be extra careful when setting them up prior to application. If they are lined up incorrectly or in the wrong spot and you commence the application process, you're out of luck. There is no moving them once they are applied, or even partially applied. This is one of the minor negative aspects of using all dry transfer markings, not just Archer's of course.
Print Quality/ Detail Level
The quality of this set of dry transfers is of the typical high quality of other Archer sets. The transfers are micro-thin and are printed completely in register with no color overrun. Although this set is printed only in red, yellow and white colors, the colors are vibrant and the text represented is very clear.
Instructions
The instructions Archer provides for this transfer set are only adequate. They are in full color but they only give a general representation of where each marking goes. Although I can probably get by, I definitely would have liked more specifics on the marking locations.
Although there were US Army rules and regulations dictating the equipment each Vietnam era Guntruck carried, each Guntruck was unique due to the improvisation of their crews (especially the armament carried). They were like snowflakes; no two the same. Maybe it's just me, but I feel that since this marking set was created to build a specific vehicle ("Red Baron"), the instructions should have addressed the special characteristics of that Guntruck.
For instance, from my references I know that "Red Baron" was different than most other Guntrucks in that it had higher than normal rear-bed armored sides and that it was also equipped with M113 side skirts. Unfortunately, the instructions don't mention those facts. Also, the instructions do mention that a number of aftermarket weapons sets are available, but they don't actually describe what weapons were carried on "Red Baron". To me, this is an important omission.
Conclusion
The Archer Fine Transfers 1/35 5-ton M54 "The Red Baron" marking set are again up to Archer's high quality standards. Also, these markings are a very welcome addition to those interested in modeling Guntrucks (like me). They are a much needed markings set for an important class of vehicles in US military history.
The downside to this set is that there are no injection molded 1/35 kits of M54 truck or Guntruck available at this time, so you'll need to scratch build one or use the relatively expensive Real Models kit or conversion. Also, the instructions are very sketchy on where the specific markings should go and there are no listings of special/unique features of this specific truck, including armament carried.
Rating = Recommended
Thanks to Woody Vondracek and Archer Fine Transfers for the Review Sample
Copyright: Patrick Keenan - September 28, 2007