---
---
| | | | | | |
| --- | --- | --- | --- | --- | --- |
| Please Support our Sponsors | | | | | |
| | | | | | |
---
Product Review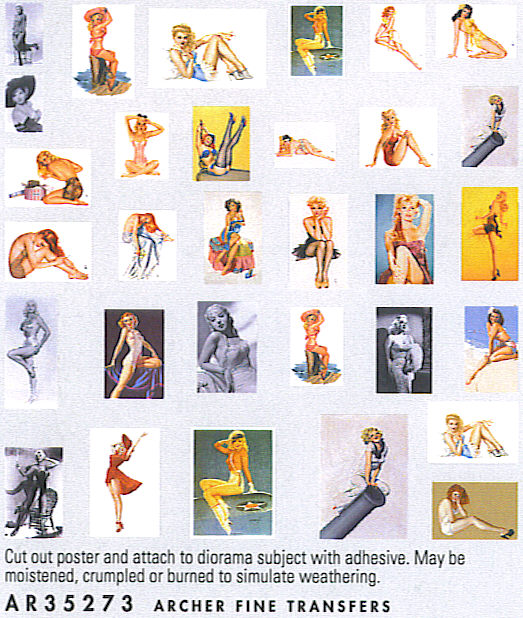 Archer Fine Transfers 1/35 Pin Up Posters
By Patrick Keenan - Aurora, Illinois USA
Basic Item Information
| | |
| --- | --- |
| Item | Pin Up Poster Set |
| Stock Number | AR35273 |
| Manufacturer | Archer Fine Transfers |
| Scale | 1/35 (but can be modified for other similar scales) |
| Medium | Super Thin Paper |
| Kit Contents | 31 Posters |
| Retail Price | $3.95 USD |
| Reviewer | Patrick Keenan |
| Review Date | December 22, 2007 |
Review Summary*
| | |
| --- | --- |
| Review Type | Normal Use |
| Basic Positive Features | Super easy to use and very reasonably priced |
| Basic Negative Features | None. |
| Overall Rating | 4.88 of 5.0 |
| Accuracy Rating | 5.0 |
| Ease of Use | 5.0 |
| Print Quality/ Detail Level | 5.0 |
| Instructions | 4.5 |
| Recommendation | A "Must Have" |
* For information regarding the review terms, grading scale, etc. please go to the WarWheels Review FAQ/Key
___________________________________________________________________________________________________
Photos
Detailed Review
Background
Archer Fine Transfers has been a player in the aftermarket armor markings game for a long time now. They mostly produce 1/35 dry transfers for armored vehicles, but they also produce many other things including armor sets in other scales, aircraft sets and generic collections like the set I'm reviewing today: Pin Up Posters.
The set contains 31 pin up posters (4 of which are duplicates) containing photographs and illustrations of scantily-clad women in various poses: AKA "Girlie Posters". The posters come in various sizes for use on 1/35 vehicles and in dioramas. Although the set is listed as being useable in 1/35, they are such that they can be used in many other scales, depending on the context. Also, this set does NOT consist of decals or dry transfers. The posters are printed on super-thin paper using water-proof ink and are made to be cut out and glued into place (using normal white glue).
Accuracy
The set's posters look very accurate compared to the photos and illustrations contained in the various magazines of the 1930-1950's era which male soldiers would cut out and display to "boost morale". Therefore, they look accurate when compared to the ones I've seen "mounted" on vehicles, aircraft and in soldier lodgings. Although the posters are not raunchy they are a bit suggestive in nature. I'd handle these like aircraft nose-art when it comes to children.
Ease of Use
These posters couldn't be more simple and quick to use. You carefully cut out the applicable poster and then secure it to the display area. That's it. Archer recommends using white glue, but I am sure there are other ways to secure them to a surface depending on your needs. However, I'd test out any alternate methods you might choose to use. You can also choose to weather them to your heart's desire. You can do this before and/or after you apply them to the surface. Crumpling, burning and immersing them in water probably would be best done before applying them though.
When I used the poster for this review demonstration, I cut it out with a hobby knife, bent and crumpled it up a bit and then flattened it out again. I then applied the poster to the surface with white glue. As you can see my crumpling faded the girlie image a bit and there was no need to do anything else to make it look realistic.
Print Quality/ Detail Level
The quality of this set is of the typical high quality of other Archer sets. Although the paper used for the posters is VERY thin, it is not overly delicate. You can handle this stuff in a reasonable manner and not worry about ripping or destroying the girls.
Also, the printing of the posters was top notch. There are a ton of colors depicted in the printing and it was all done crisply and clearly with no color overruns, image fading or misprints. The ink used with this set is water proof so it won't run if you immerse it in water (for weathering) or when using white glue to mount the posters. Archer boasts that you can crumple, rip and burn the posters to weather them. I took them up on their "offer" of crumpling them and they held up fairly well. The image faded a bit with my crumpling abuse, but that was fine as having a poster that is weathered but has a bright image is inconsistent with reality.
Instructions
Although the instructions Archer provides for the set are pretty basic, they are perfectly fine since the posters are ultra simple to use. They are more than sufficient and are easy to follow.
Conclusion
Once again, Archer provides us modelers with a great product that is easy and quick to use, yet very reasonably priced. The pin-up images are clear and crisp and are accurate for the post/pre WWII era.
Rating = A "Must Have"
Thanks to Woody Vondracek and Archer Fine Transfers for the Review Sample
Copyright: Patrick Keenan - December 22, 2007