---
---
| | | | | | |
| --- | --- | --- | --- | --- | --- |
| Please Support our Sponsors | | | | | |
| | | | | | |
---
Decal Review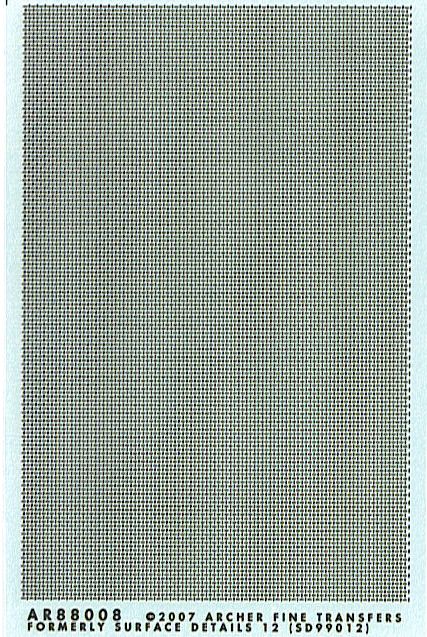 Archer Fine Transfers - Surface Details #8
"Treadplate Pattern"
By Patrick Keenan - Aurora, Illinois USA
Basic Item Information
| | |
| --- | --- |
| Item | Surface Details #8 – Treadplate Pattern Set |
| Stock Number | AR88008 |
| Manufacturer | Archer Fine Transfers |
| Scale | "Various" |
| Medium | Resin printed on Clear Decal Film (Water Slide) |
| Kit Contents | 2 ½" X 4" sheet of usable treadplate |
| Retail Price | $14.95 USD |
| Reviewer | Patrick Keenan |
| Review Date | August 26, 2007 |
Review Summary*
| | |
| --- | --- |
| Review Type | Normal Use |
| Basic Positive Features | Quick, easy and they look great when finished |
| Basic Negative Features | Relatively High Price |
| Overall Rating | 4.75 of 5.0 |
| Accuracy Rating | 4.5 |
| Print Quality/ Detail Level | 5.0 |
| Ease of Use | 5.0 |
| Instructions | 4.5 |
| Recommendation | A Must Have |
* For information regarding the review terms, grading scale, etc. please go to the WarWheels Review FAQ/Key
___________________________________________________________________________________________________
Photos
Detailed Review
Background
Archer Fine Transfers has been a player in the aftermarket armor markings game for a long time now. They mostly produce 1/35 dry transfers for armored vehicles, but they do produce many other things including armor sets in other scales, aircraft sets and generic collections, like flags and such. However, Archer has developed a 'new' product series which looks to be unique and VERY useful. When I say these are "new", in this case they are re-engineered and considered version 2.0 products, and improved from Archer's first attempt.
This series is called "Surface Details". So as to not re-invent the wheel, I'll quote Archer as to what these buggers are. "Surface Details are fine resin parts such as rivet heads, fastener heads, weld beads… Treadplate… (which are) cast directly onto clear decal film. (They) are applied under the paint just like conventional waterslide decals, using the same setting solutions and methods used to apply regular decals… and they can be stacked for even greater depth".
What does this mean? Well, if you want to add some nice details (such as weld beads) to your kit, you apply the surface detail set of your choice and then once dry you can paint over them and weather them along with the rest of your model. As they are cast directly onto the carrier film, you can simply cut out the shape of your choice and apply it easily to your model.
The set I am reviewing of the Surface Detail Series this time around is set #8 Treadplate Pattern. This comes in a 2 ½" X 4" sheet of usable treadplate which is listed for use with models/projects of various scales. The pattern of the treadplate is in rows and columns of small rectangular raised 'nubs' which sit perpendicularly to each other.
Accuracy
As I am not an "expert" in treadplate patterns (are there any in the world??), I cannot definitely say these are accurate when compared to the myriad of treadplate patterns ever produced. I can only say they look good to me in that they look like a nice generic treadplate. Let's put it this way, if I were to use them on a project and someone said they are "wrong" for that vehicle I wouldn't lose any sleep over it.
Print Quality/ Detail Level
The quality of this set is of the typical high quality of other Archer sets. The treadplate pattern is noticeably textured and high, even when groping them through the packaging. Hey, this is perfectly fine as Archer has invited me to do so by providing a sticker with pointing hand and saying "Touch It". Well, I took them up on their offer!! When handling them for use, they were very sturdy, yet came on thin decal film. I was able to move them around without fear of ripping them.
Ease of Use
These were VERY SIMPLE to use just like "normal" water slide decals. I did NOT have to take any special steps to use them when compared to regular decals. I applied them to Evergreen sheet plastic and I did use decal setting solution for good measure. They set down without any problem and were totally flat.

In fact, when compared to brass sheet treadplate I've used before, an untrained monkey could apply these without a hitch. When using brass sheet treadplate you sometimes have to first remove/eliminate the kit part(s) unless you stack it on top of the kit part. That is perfectly fine for many applications such as flooring, but when using the treadplate for fenders that might not work. If you don't remove the kit part, you may have a surface that is too thick.

Also, when cutting brass sheet into intricate patterns/shapes it can be difficult; but not with these surface details. You use a hobby knife or scissors and cut to shape as easily as cutting out paper dolls. Plus, you can put it right on the kit part, (assuming there is no raised detail) on the piece already. That's it.

Once I applied the set, I experimented with both brush painting and airbrushing. Both methods work fine, but airbrushing works a bit better as the paint normally goes on a bit thinner than via brush. Since the resin is black in color, it takes a bit more effort to cover it using lighter colors. By hand, you'll usually need to apply more than one coat in thin layers, rather than one thick coat of paint. That strategy is normal for painting any model with a hand brush, but it must be followed more closely due to the fine detail of the resin.
Instructions
The instructions Archer provides for this set are perfectly fine. They stress that using these surface details are no different than normal decals. They are more than sufficient and are easy to follow.
Conclusion
This treadplate surface detail is awesome. They are quick and easy to use and they look great when finished. Although the price is pretty hefty at $15 USD, they are a great value and well worth the money when compared to purchasing the harder to use brass sheet treadplate.
Rating = A MUST HAVE!
Thanks to Woody Vondracek and Archer Fine Transfers for the Review Sample
Copyright: Patrick Keenan - August 26, 2007