---
---
| | | | | | |
| --- | --- | --- | --- | --- | --- |
| Please Support our Sponsors | | | | | |
| | | | | | |
---
Product Review: Archer Fine Transfers
US Women at War Propaganda Posters
By Steve Allen - Monticello, Iowa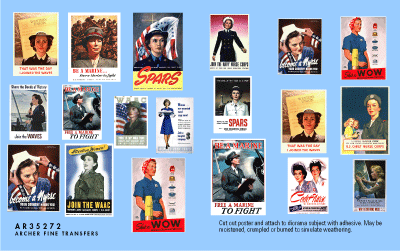 Basic Item Information
| | |
| --- | --- |
| Item | US Women At War Propaganda Posters |
| Stock Number | AR35272 |
| Manufacturer | Archer Fine Transfers |
| Scale | 1/35 (can be modified to other scales) |
| Medium | Ultra Thin Paper |
| Kit Contents | 19 Posters |
| Retail Price | $5.95 USD |
| Reviewer | Steve Allen |
| Review Date | December 16, 2007 |
Review Summary*
| | |
| --- | --- |
| Review Type | First Look |
| Overall Rating | 9 of10 |
| Quality Rating | 10 of 10 |
| Variety Rating | 8 of 10 |
| Recommendation | Highly Recommended |
* For information regarding the review terms, grading scale, etc. please go to the WarWheels Review FAQ/Key
___________________________________________________________________________________________________
Product Review
Unlike the majority of Archer transfers, this set is NOT a rubdown transfer or decal set. It is printed on soft, thin paper and is designed to be mounted using a suitable white glue. The posters are printed using waterproof ink and are beautifully rendered.
There are fifteen different posters, four of which are reproduced in two sizes, giving a total of nineteen in all. There is no trace of any colour being out of register and the printing is sharp and clear. The posters are various sizes, the largest scaling out at 4' x 3'9" and the smallest 2'9"x 1'9"
The big question is, how useful is this set? Since it depicts American woman either joining the services or engaging in war work there is very little scope for it's use in war theatre dioramas. However if the subject is home (US) based then these are ideal for use in a street or factory scene. The scale also limits its use for aircraft modelers except perhaps for 1/32nd scale. I was hard pressed to think of a scenario for War Wheels but I guess maybe an M8 Greyhound on a factory test run or something like that would be fine.
I'm sure there is a modeler somewhere who has been crying out for a set of posters like this. He (or she) won't be disappointed with Archers' offering.
Quality Rating = 10/10
Variety Rating = 8/10 (no Rosie the Riveter)
Overall rating = 9/10: Highly Recommended
Thanks to Woody Vondracek and Archer Fine Transfers for the Review Sample
Copyright: Steve Allen - December 16, 2007