---
---
| | | | | | |
| --- | --- | --- | --- | --- | --- |
| Please Support our Sponsors | | | | | |
| | | | | | |
---
Kit Review: 1/72 Retrokit
Panhard-Schneider P16 (M29) Halftrack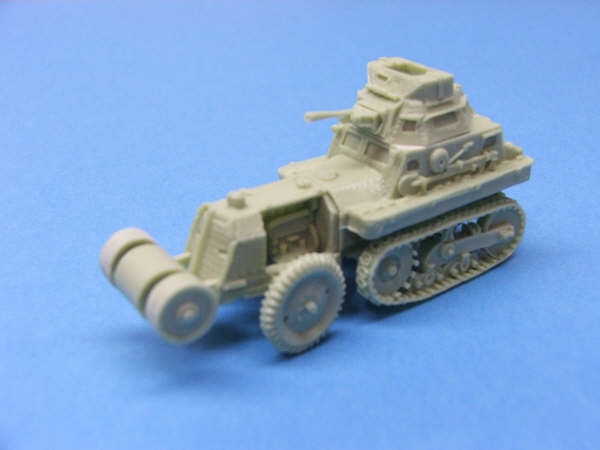 By Mac Johnston - Enfield New Hampshire USA
Basic Item Information
| | |
| --- | --- |
| Item | Panhard-Schneider P16 (M29) Halftrack |
| Stock Number | R72022 |
| Manufacturer | Retrokit (A sponsor of WarWheels) |
| Scale | 1/72 |
| Medium | Resin |
| Kit Contents | 46 Parts (Approximately) |
| Retail Price | 24.10 Euro (Approx. $33.00 USD) |
| Reviewer | Mac Johnston |
| Review Date | August 7, 2007 |
Review Summary*
| | |
| --- | --- |
| Review Type | Normal Build |
| Basic Positive Features | Interesting Subject Matter; Good Instructions for a Resin Kit |
| Basic Negative Features | Needs mold rework/refinement; No listing of paint color or markings |
| Recommendation | Recommended with Reservations (For experienced Modelers) |
* For information regarding the review terms, grading scale, etc. please go to the WarWheels Review FAQ/Key
___________________________________________________________________________________________________
Photos

(Part Breakdown Photo Courtesy of Retrokit)
Kit Review
When I opened up the model box, I found that it had varying levels of flash. However, the model built up fairly easy after cleaning up the kit. The kit does come with a basic engine and mounts easily. The hood can be portrayed open or closed as can the hatches on the vehicle. However, I did have to make the top hatch on the turret as it was broken during the postal trip to my house.
There are NO places shown to mount the rear springs to the chassis or the
mounting of the front fenders either. One other disappointing aspect of the kit is after you figure out how to mount the rear leaf springs, there isn't any place to mount the one piece track assembly either. I placed it where it looked correct and used a large glue blob to hold it in place. Lastly, the inner sprockets are totally devoid of any detail at all. I needed to run an Evergreen tube between the front drive sprockets for support.
I painted the halftrack with Humbrol "French Artillery Green" as Retrokit didn't provide any color or marking information for the vehicle. I drybrushed it with oils and gave it a wash with MIG Productions "European Earth" on the lower details.
Conclusion
With all this being said, I actually had fun with this kit despite its problems. I
like building different and unique subjects rather than the normal, run of the mill things. This kit fit the bill and all the time I was building it I was wishing it was a plastic 1/35 scale kit as I normally prefer that scale.
To recommend this kit would be a stretch. It lacked quality and needs some
finishing information as to color and markings. This can only be recommended
to an experienced modeler. As I said it was fun but not show worthy. If I understand correctly, Retrokit's kit quality has improved since the production of this kit. This is an awesome little subject but needs an improvement in quality; retooling perhaps?
Thanks to Domi Jadoul and Retrokit for the Review Sample.
Recommended with Reservations (For Experienced Modelers)
Copyright: Mac Johnston - August 7, 2007