---
---
| | | | | |
| --- | --- | --- | --- | --- |
| Please Support our Sponsors | | | | |
| | | | | |
---
Book Review of
"AFV's in Irish Service Since 1922:
From the National Army to the Irish Defence Forces"
Review By Patrick Keenan - Editor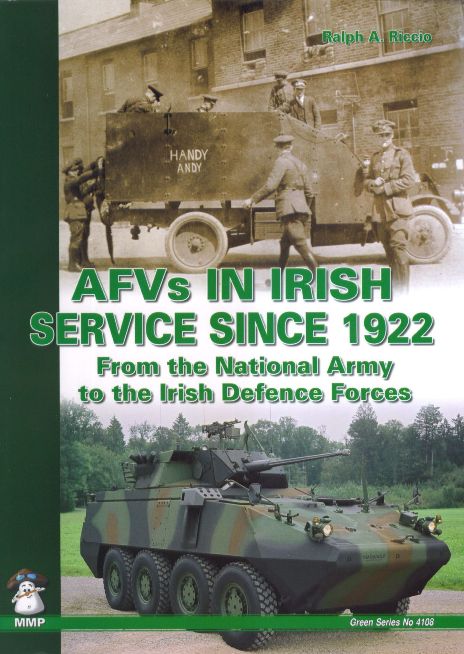 Basic Item Information
Title

AFV's in Irish Service Since 1922: From the National Army to the Irish Defence Forces

Author, Editor and/or Illustrator

By Ralph Riccio

Illustrations by Rodolfo Ciuffoletti

Publisher

Mushroom Model Publications

ISBN/Stock Number

ISBN 978-83-61421-19-1

Subject

Irish AFVs from 1922-2010

Media

Soft Cover Book

Number of Pages

224

Number/Type of Photos and/or Illustrations

(228) Color Photographs, (105) Black/White Photographs and (41) Black/White Vehicle Line Drawings

Text Language

English

Retail Price

$58 USD (Distributed in US by Casemate Publishers)

Please note that Casemate is a sponsor of Warwheels.

Reviewer

Patrick Keenan

Review Date

March 7, 2011
Review Summary*
| | |
| --- | --- |
| Review Type | Full Read |
| Basic Positive Features | Comprehensive informational & photographic coverage of Irish AFV's; The quantity and variation of photos is exceptional. |
| Basic Negative Features | A couple line drawings look a bit small for scale listed (1/35). |
| Recommendation | "A Must Have" for those interested in armored cars in and/or Irish AFV's. |
* For information regarding the review terms, grading scale, etc. please go to the WarWheels Review FAQ/Key
Photos
_____________________________________________________________________________________________
Detailed Review
Book Content
This review is of the new book "AFV's in Irish Service Since 1922: From the National Army to the Irish Defence Forces" by author Ralph Riccio.
This book provides comprehensive coverage of what looks to be ALL Irish Armored Fighting vehicles from the creation of "the Free State" in 1922 to present (2010); both tracked and wheeled. It is very similar in content and layout to the well known references "British and American Tanks of WWII" by Chamberlin & Ellis and "Encyclopedia of German Tanks of WWII" by Chamberlin, Doyle and Jentz. Although I will review the book in its entirety, I will focus on the large amount of wheeled vehicle content as this review IS for WarWheels.Net.
Please note that Mr. Riccio's focus in only on machines that were considered AFV's and it does not cover other Irish military vehicles, such as motorcycles, softskins, etc.
The book is divided into the following main sections:
Picture Credits

Introduction

Origins of Armour in Ireland

1922: Armour During the Civil War

Organization of Irish Armoured Units

Armour in Support of Irish Peacekeeping Contingents Abroad

Armoured Vehicles in Irish Service 1922-2010

Appendix 1: Colour Equivalents for Modelers

Appendix 2: Irish Cavalry Corps Unit Designations

Appendix 3: Cavalry Corps Unit Insignia

Appendix 4: Markings and Colours

Appendix 5: Vehicle Resignation Numbers

Appendix 6: Vehicle Service Dates

Appendix 7: Weapon Characteristics

Appendix 8: Preserved Vehicles.
The "meat and potatoes" of the book is the coverage of the specific AFV's used by the Irish Free State. Therefore, I am listing the individual vehicles covered in the section titled "Armoured Vehicles in Irish Service 1922-2010". The vehicles covered are:
Rolls Royce 1920 Pattern Armoured Car

Peerless Armoured Car (1919 Pattern)

Lancia Armoured Troop Carrier

Fiat Armoured Car

Partially Armoured Vehicles

Leyland Armoured Car

Landsverk L180 Armoured Car

GSR Morris & GSR Ford Mark IV Armoured Cars

Ford Mark V Armoured Car

Ford Mark VI Armoured Car

Dodge Mark VII & Dodge Mark VIII Armoured Cars

Beaverette Light Armoured Scout Car

Ferret Mark II Armoured Car

Scania SKPF m/42 APC

Humber Mk I "Pig" APC

Panhard AML 245 Armoured Cars (H60 & H90 Series)

Landsverk Unimog Scout Car

Panhard M3 VTT APC

Timoney Mark I APC

Timoney Mark II APC

Timoney Mark III APC

Timoney Mark IV APC

Timoney Mark VI APC

SISU XA-180 APC

RG-31 Mark 3 Nyala

MOWAG Piranha IIIH APC/AIFV

RG-32M Light Tactical Vehicle

Vickers Mk D Tank

Landsverk L60 Light Tank

Universal (Bren Gun) Carrier

Churchill Mark VI Tank

Comet A34 Tank

M113 APC

Alvis Scorpion CVR(T)
Accuracy of Information
The accuracy of the information provided by the author is excellent. When compared to my personal references Mr. Riccio's book is very accurate. I did not identify any wrong or misleading information contained in this book.
The primary sources I used to check the accuracy of the book are:
"A Photo History of Armoured Cars in Two World Wars" by Forty

"British and American Tanks of WWII" by Chamberlin & Ellis

"Encyclopedia of Armoured Cars" by Crow & Icks

"Irish Army Vehicles: Transport & Armour Since 1922" by Karl Martin
In addition, I've compared the information Mr. Riccio provides about the Wheeled Fighting Vehicles with photographs in my personal collection as well as with the information we have available here on Warwheels.Net.
Photograph and Illustration Quality and Selection
Mr. Riccio provides a staggering 228 Color Photographs, 105 Black/White Photographs and 41 Black/White Vehicle Line Drawings in this book. The quality level of the vast majority of photographs is from very good to excellent. The small number of photos that could be considered fair to good in quality are only the earliest photographs taken; around 1922. In my opinion that should obviously be excused as the mere presence of these photos in the book IS the most important point to remember.
As for the selection of photos contained in this book, that is the true strength of the book. Mr. Riccio provides photos of preserved museum pieces as well as contemporary "in action" pictures, even from the earliest period covered by the book. It's obvious to me that this book is "a labor of love" for the author due to the care and detail he put into it. For example, (when possible) Mr. Riccio makes the extra effort to provide photos of the covered vehicles when they're actually in Irish Service, rather than only providing generic/representative photos of the vehicles.
Also, the photos come from a myriad of sources such as the vehicle manufacturers, government archives, and personal individuals' collections. Although, a few detail photos are included to help identify specific vehicles, there are not many provided in this book. However, considering the purpose of this book is to provide encyclopedic coverage of Irish AFV's, a large selection of detail photos shouldn't be expected.
Finally, the 41 black/white line drawings by Rodolfo Ciuffoletti are also a very welcome addition. Most of these highly detailed illustrations provided are 1/35 scale side views of the different AFV's used/in use with the Irish military. In fact, every vehicle that has a section dedicated to it (see above) also has a representative line drawing provided.
However, with that being said, a couple of the drawings looked a bit small in size to me. So, I checked what scale drawings I could against my references; specifically the book "World War II AFV Plans: British Armoured Fighting Vehicles" by George Bradford, as well as a few other of Mr. Bradford's plans. I did find two drawings a bit small in my opinion; The Beaverette Scout Car and the Universal "Bren Gun" Carrier. On the flipside though, I found the drawings accurate in size for the Rolls Royce 1920 Pattern, Ferret Mark II Armored Car and the Panhard AML Series of Armored Cars.
I contacted Mr. Riccio about this matter and he stated that some of the drawings look a bit small to him as well. He believes that during editing of the book the publisher may have arbitrarily adjusted some of the drawings' sizes while creating the some of the page layouts. Therefore, a reader should not rely on these drawings alone, specifically they should check the dimensions given in the vehicle specifications sheets also provided in the book.
Use as Reference
This book is an exceptional reference for modelers and vehicle enthusiasts as well. It provides comprehensive informational and photographic coverage of all AFV's used by the Irish Free State from its beginning in 1922 to present day (2010). He covers both the Irish indigenous vehicles designs as well as foreign designed vehicles. You want to get some information or see a photo of a specific Irish AFV? Well, in my opinion you won't find a better book to use. Period.
Besides the "normal" information seen in books of this type, Mr. Riccio also provides information targeted specifically to us modelers. This focus comes in the form of markings/coloring information of the real vehicles, a section dedicated to modeling paint colors, as well as a section showing the location/condition of preserved vehicles.
Editing of Information/ Text Flow
The text flow (e.g. the writing ability of the author) and editing of the information provided is excellent. I also found the book easy to read, informative and it more than sufficiently described and explained the photos in the book. Also, the information is provided in a logical and organized way and wasn't confusing. I did find two photos which had their caption's switched (the two bottom pictures on page 207), but that is the only thing I identified that "needed fixin' ". With that being said, the other 350+ other photo/scale drawing captions looked good.
Quality of Print Medium
This book is in a 8 ½"x 11" size format and the soft cover media is of a decent quality. The construction of the book facilitates fairly frequent use/reading of the book, but probably won't hold up extraordinarily well with constant use. Obviously, all soft cover books suffer from the fact that they don't hold up as well as hard cover books.
Conclusion
Once again, Mr. Riccio has a authored a great comprehensive reference for us vehicle enthusiasts and modelers. The impressive amount of information and number of photos provided in this book of long neglected subject is an incredible boon to those interested in Irish AFV's. The only fault I found with the book is that some of the scale drawings look to be a bit too small than the scale listed. Even with that issue, it is my opinion that you won't find a better reference dedicated to Irish AFV's. Period.
Recommendation: "A Must Have" for those interested in armored cars in and/or Irish AFV's.
Thanks to Ralph Riccio for the Review Sample.
Copyright: Patrick Keenan - March 7, 2011